There are many different ways to digitize business cards. I would like to give you a brief overview of good solutions that will save you time and help you to organize your contacts better.
Why digitise business cards at all?
My experience is that business cards often get lost after a short time because there is no simple way to store and maintain these contacts. Normally, when I receive a business card from a business partner, I put it directly into my wallet. If I don't have to contact the person immediately, they stay there for a few days. After the wallet has grown to an uncomfortable thickness, the business cards end up somewhere on my desk. And when the desk needs to be tidied up, most of them end up in the trash
So as you can see, this unorganized, unprofessional workflow can lead to embarrassing situations and many missed opportunities. But I am not alone. Statistic Brain (2017) found out that 88% of all business cards distributed end up in the waste paper basket in less than a week.
What options do I have?
The easiest solution, of course, is to add all these contacts immediately to your favorite address book, for example on your smartphone. Easier said than done. Statistic Brain (see above) has also found that only 9% of these 88% of discarded business cards were previously digitized. But why?
Adding contacts to your address book will most likely mean typing all the relevant data by hand. This process takes time and is usually frustrating when processing a large number of cards at once. But not only is the digitization process tedious, having certain business contacts in your private address book can also confuse your structure. Most address books do not have categories where you could separate these contacts or structure them according to the business context. Then, although you have digitized the basic information, you will only be able to find the contact by name afterwards. And this is the point at which you have lost your contact again.
In addition, you often need to keep the visual representation of the business card with you. Why? The human brain can remember the appearance of an object much better than just hard facts. Imagine you receive a green business card with a nicely shaped white logo on it. Wouldn't it be great to search your last contacts only for this green business card? It is possible by scanning business cards. 🥳
- - -
How to scan business cards?
There are a lot of smartphone apps that allow you to scan your business cards and add them to an address book. They use the camera on your smartphone to take a photo of the card and crop it. Most of them also support OCR (optical character recognition), which recognizes and automatically classifies the text on the business card. This is great in theory, but in practice it's often the flip side of these business card scanner apps. Because OCR technology uses expensive machine learning algorithms, this service is usually limited or not free of charge and hidden behind a paywall. Even if you want to pay for such a feature, which can save you a lot of time, most algorithms are still not good enough. Scanning business cards usually means to manually edit the recognized text fields later, because characters were recognized incorrectly or a whole text area was classified incorrectly. The second type of error is even more frustrating because there is usually no way to easily change the classification (e.g. swap person name & company name)
With this in mind, I have tested and analyzed the most used business card scanning tools:
ABBYY Business Card Reader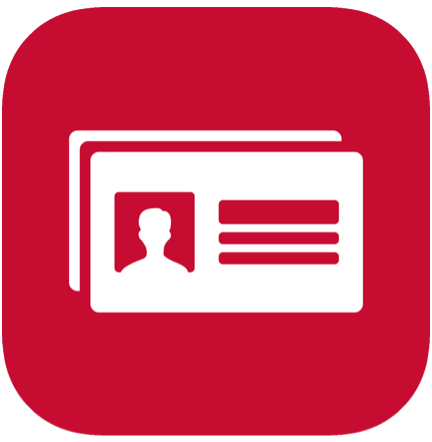 ABBYY Business Card Reader is a classic scanner app that focuses on the OCR process. ABBYY also offers professional interfaces for other OCR applications and an API for businesses. Therefore, the scanning capabilities are good compared to other competitors. The text is usually correctly recognized and classified. However, if it fails, the correction process is also manual and cumbersome. Image cropping is nicely implemented, but the automatic processing of image colors changes the look of the card in an unappealing way (far too much contrast, so that colors and logos look ugly). Another drawback is the user interface of the app. It looks a bit outdated and useful functions, like grouping your contacts, are hidden. ABBYY is available for free for Android and iOS, but only allows scanning of 10 cards. So you will most likely have to pay for a premium subscription, which costs €25 per year.
Advantages:
Good scanning capabilities
Organise in groups
Add to phone & basic share functions (email, SMS)
Disadvantages:
Dated user interface
Poor automatic colour correction
Very limited free features (you will probably have to pay for premium)
CamCard
CamCard is the leading business card scanner app on the market. It offers more features than ABBYY and comes with a nicer user interface. The scanning capabilities of the tested cards are slightly worse than ABBYY's and there are more errors in character recognition and classification. Correcting the errors is also not very convenient, so it sometimes takes as long as adding cards manually. CamCards allows you to share your own card and scanned cards that you have received via WhatsApp, QR Code, etc. Therefore it creates a landing page with the basic information and the image of the business card, which is visible to everyone.
In the free plan the app is able to scan 500 cards. The Premium Plan starts at $50 per year.
Advantages:
Organise in groups
Cloud Synchronization
Better sharing features (WhatsApp, QR, etc)
Disadvantages:
Decent scanning capabilities
Poor automatic colour correction
Expensive premium upgrade
Legal uncertainty (GDPR compliant sharing?!)
hub.cards
hub.cards is a modern platform for professional contact exchange with a well-designed business card that works both digital and on paper. Making it easier to share, store and synchronize your own business card (even after you have shared it with others). However, hub.cards also allow you to digitize physical business cards and store them in the cloud.
The scanning process is very accurate and the classification of the text can be easily edited by navigating through the relevant sections. The image quality of the business cards is the best of all tested apps. The stored cards can be easily grouped and can be accessed from any device with an internet connection. The free plan is not limited to the number of scans and allows you to save as many business cards as you like.
Additionally, there are tons of great features enhancing your own business card. Like a great design tool with many templates which can be customized with images and logos. Each digital business card has a personal web address for easy sharing that works for everyone even without having the app installed. On top of that there are analytics as well as professional email signatures and Zoom Background that link to your digital business card.
The premium subscription unlocks even more features like a Apple Watch App and more personalization options for $24 a year.
Advantages:
Great scanning and classification process with faster error correction
All contacts are available on Apps for iOS, Android, Windows, MacOS & Web
Export of scanned contacts with CSV file (Excel, Outlook)
Great sharing features (WhatsApp, QR-Code, URL-Link, Apple Watch, Email Signature, Zoom etc.)
Analytics of card usage, including location and last visitors
Disadvantages:
The Android app has less scanning options yet
And that's all?
No, there are other business card scanner apps you can find. This selection scored best when tested with different cards. Other scanner apps do not differ too much from each other. The three solutions presented offer different features with different goals. I personally like hub.cards best because it has a more convenient error correction mechanism, a fresher and clearer user interface, and colorful groups that make it easy to categorize each card according to its context (e.g. colleague, friends, salesperson, craftsman, …), a fast search engine and a good integration with my smartphone address book and Outlook